I'm a Kanga!
Today, has been a full day. I worked at the library for 8 hours and didn't sleep much, but I am doing okay. I spent time reading and praying last night and I believe that really helped me to be able to maintain today. I can say that the scripture "I can do all things through Christ who strengthens me," has been fulfilled. I couldn't have done it without Him.

This evening I spent time setting up this page and visiting other blogs. I found some great sites and wonderful tips. I've added some links and my email address, hope you like the changes. I also found this really funny personality quiz at one of my friends' blogs. The quiz is called "100 Acre Personality," and you answer questions to determine whom you are most like. My results are in and I am more like Kanga, who would have thought it. Anyway, it was a fun way to end my day.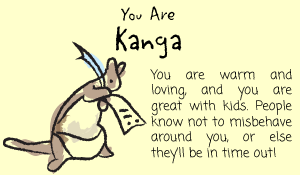 Take the 100 Acre Personality Quiz!
Have a wonderful weekend and don't forget to go to the House of the Lord and praise His wonderful name. Talk w/you soon.

Bye now ~
"In all things, give Him honor and praise"